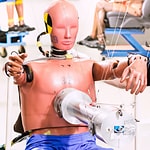 What do NHTSA star ratings actually say about your vehicle? What do the ratings even mean? These are common questions for the experts on our JOHNSON AUTO PLAZA team. Here's their quick overview.
NHTSA Vehicle Safety Ratings
Each year, the NHTSA doles out its coveted Top Safety Pick designation for vehicles that do well on most or all of its vehicle safety tests. What are these tests? There are four main types of crash tests: front, side barrier, side pole and rollover. Most tests involve a vehicle filled with an average size male dummy and a small female dummy seated up front. For the test, vehicles travel at a certain speed, at certain angles, into a collision. NHTSA evaluates the post-collision condition of the dummies, namely their heads, spines, abdomens and pelvises.
What the Collisions Represent
The NHTSA designs each collision to simulate a real world scenario. The frontal crash gauges damage between vehicles of the same weight engaged in a head-on collision. The side barrier mimics a collision at an intersection. The side pole crash test gauges how vehicles withstand impact after sliding sideways and hitting a pole. The rollover crash test isn't a test. it assess a vehicle's top-heaviness and its likelihood of tipping after performing an extreme driving maneuver.